Once your Kickstarter campaign has ended, it's time to import your Kickstarter backer information.
Here are the steps to importing your Kickstarter backers:
1) Confirm that you can use Collaborator access.
If your Kickstarter campaign launched before 06/09/2016, the backers will be imported using a Kickstarter Backer Report. To export the Kickstarter Backer Report, follow these instructions.
If your Kickstarter campaign launched after 06/09/2016, you can give Crowd Ox Collaborator access. Collaborator access allows us to import the Kickstarter Backer Report directly into our system, for your convenience. Follow the steps below to grant Collaborator access.
2) Login to your Kickstarter account.
Click on the menu icon in the upper right corner. Select your project. Then select 'Collaborators.' from the menu.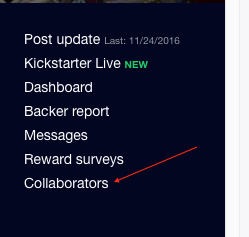 3) Invite ksa@crowdox.com and give us Fulfillment permissions.
Enter our email "ksa@crowdox.com". Check the Fulfillment box. Click the green 'Send Invitation' button.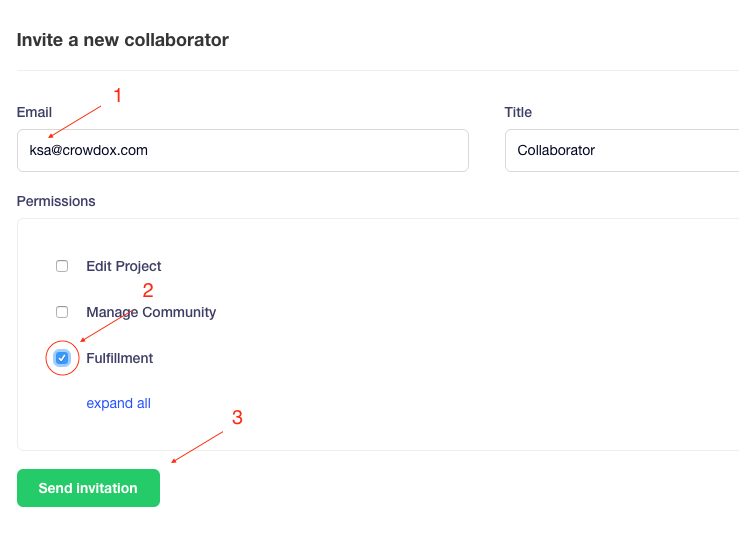 4) Login to your Crowd Ox account.
Click the green 'Invited as Collaborator' button. Your invitation will be automatically accepted within a few minutes. Remember, if your campaign is still running, you won't see any orders in Crowd Ox yet, even if your invite was accepted!