Have a large number of orders recently shipped? We can help with marking a large number of orders as shipped in bulk, internally. This is most commonly used if you want to simply mark the orders as shipped or upload the tracking numbers for a large number of orders. Whether or not a tracking number is available, you can request that we email the backer to let them know their order has shipped. Keep in mind, marking the order as shipped will lock the order preventing changes.
To mark the orders as shipped our Customer Support team will need a spreadsheet (preferably CSV file) with the information listed below. When ready, email the file to hello@crowdox.com. Please allow 2 to 3 business days to complete your request.
Information Needed in CSV file:
1) Column A: Order ID (1234567) or Order Number (CROWDOX-1234567)
We identify the order by the Crowd Ox ID. The order number may be formatted as only digits (1234567), or with the prefix "CROWDOX-" (CROWDOX-1234567).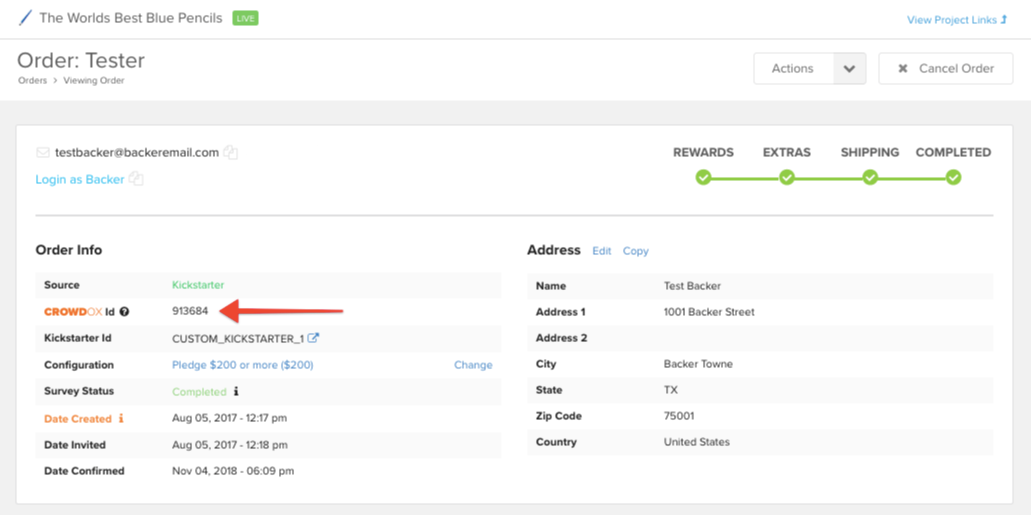 2) Column B: Shipping Method (UPS, USPS, Fedex, DHL, etc) - required if tracking number provided
If a tracking number is provided, we need to know what shipping carrier the tracking number is associated with. If the backer will receiving the tracking information via email, then only the shipping carrier name is shared. A tracking link may be used in place of the name, if provided.
3) Column C: Tracking Number (9999999999 9990) - if available
This is the unique tracking number generated for the specific order. Only one tracking number can be stored per order.
Example of CSV file:

Please let our team know if you want the backer to receive the tracking number and shipping method via email.