Your surveys have been live for awhile, and it's time to start gathering data and fulfilling orders. We have tools to help with gathering all of your completed orders for fulfillment, as well as collect and work with other data in the platform.
To start, go to the Exports page on the sidebar menu. You have access here to the same filters as you do on the Orders page, and a set of exports you can access on the bottom of the page.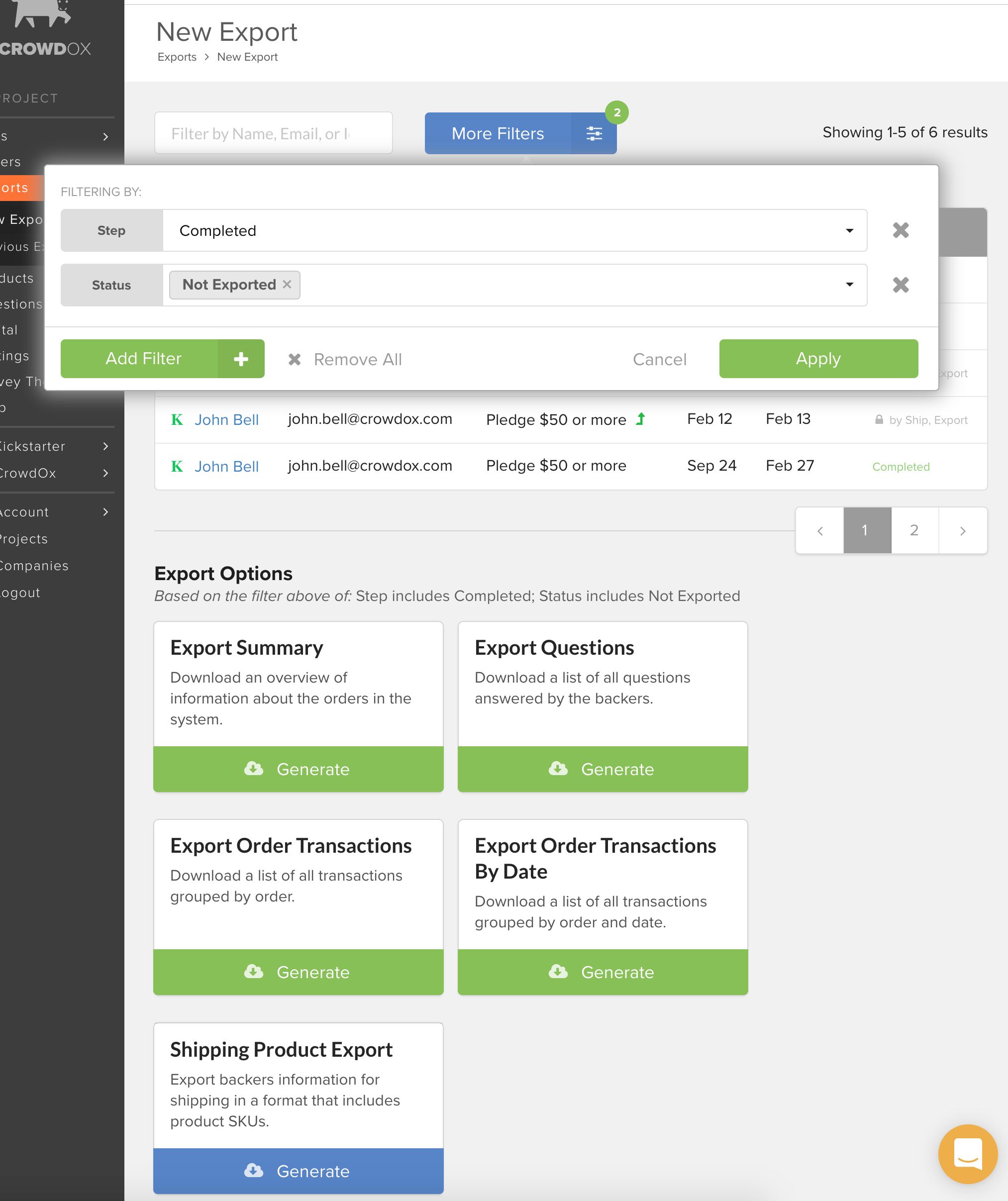 Export Summary. This export contains an overview of the orders, containing basic information about each backer's order. This is useful if you just need a list of email addresses, or want to pivot on information like countries.
Export Questions. This will export a list of all answered questions by backers.
Export Order Transactions. Get a list of every order's transactions on a crowdfunding platform, as well as on Crowd Ox, including on which payment platform.
Export Order Transactions By Date. Similar to the Order Transactions export above, this export orders each transaction by date. This is useful if you need to sum up transactions within a date range.
Shipping Product Export. This is the primary export you'll be concerned with during fulfillment. This export has all of your completed orders, in a format for your fullfillment or shipping company. We have a variety of formats available for different shipping and fulfillment providers, as well as a format which contains virtually all of the information you could need during fulfillment, and would work well for most bulk order uploads. This export also has the distinction of being able to lock your orders while generating, to prevent changes to the orders.
You can use a variety of combinations of filters to get just the order segments you're looking for. For instance, if you were shipping a few products early, and needed to only export green Widgets and blue Sprockets, you could do that by setting Product filters for Widgets and Sprockets, and then Product Variation filters for just Green and Blue. Generate a Shipping Product Export, and you'll lock and export only green Widgets and blue Sprockets. Or let's say you're ready to ship your main rewards, but not any of the extras yet. You could select the Line Type filter, then select includes Rewards. You will then only generate an export containing Rewards. You could also, say, exclude Digital products from the export.
As you can see, filters are very flexible, and with the variety of exports we have this allows you to get all kinds of data in a lot of different ways!
If you need help with any topics in this guide, learn how to get help from a real human here!